Hybrid Kentucky Bluegrass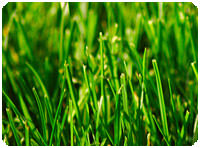 Our Hybrid Kentucky Bluegrass is a cool season, perennial turf and has a deep bluish green appearance. This type of sod is known for its dark, rich color, fine texture, and its cold and stress tolerance. Although Kentucky Bluegrass is not native to North America, it is one of the most popular types of turf grass in the United States, covering many of the cool and humid areas.
Another unique aspect of the Kentucky Bluegrass is that the root system consists of underground stems, or rhizomes. Rhizomes form an underground carbohydrate supply that helps plants recover quickly after drought, cold, or other types of turf injury.
Our Hybrid Kentucky Bluegrass requires a medium amount of lawn care and will make a beautiful home or sports lawn. This particular sod is ideally suited for athletic fields and parks, golf course roughs, clubhouse grounds, home lawns and industrial parks.
A summary detailing the maintenance of our Hybrid Kentucky Bluegrass sod:
Water Needs
Comparatively, Kentucky Bluegrass has a high water requirement. As much as two inches of water per week may be needed to keep your sod green and growing during summer months.
Water must be applied often in smaller quantities, as the shallow root system cannot maintain the large amounts of water that are necessary.
The drought resistance of Kentucky bluegrass is generally underestimated. Our Hybrid Kentucky Bluegrass can survive several months without significant rainfall or irrigation and it has the ability to go dormant in severe situations.
Sun and Shade Needs
This sod has an excellent cold tolerance.
The Hybrid Kentucky Bluegrass is also very adaptable to shade and sun - it is desirable in mixed conditions.
This grass can become dormant during cold winter months, and can then quickly recover in the spring.
Other Maintenance
Sharp mowing blades and properly adjusted mowers are ideal for use on this type of lawn in order to avoid pulling up sod. Weekly mowing to a two and a half inch height is typically ideal.
Insect populations should be monitored so that insecticide applications can be made. Pest management is much more cost effective than either routine insecticide applications or replacing large areas of sod.
Although proper maintenance is necessary, our Hybrid Kentucky Bluegrass is an excellent self-repairing turf when conditions warrant.
This type of sod is typically used in low to medium traffic areas.
A Missouri Turf representative will be able to guide you on the specific maintenance of your sod to achieve the look that you want in the conditions you have available. They are experts at helping you get the best sod for your needs. Contact us today!